Home Information Packs (HIPs) became compulsory on August 1st 2007 for all properties with four or more bedrooms and for 3 bedrooms since 10th September. It is the responsibility of the seller to provide the HIP and you will be breaking the law if you fail to do so. You don't need to have received your HIP before you put your property on the market, as long as it has been ordered, you can go ahead and advertise your home.
You can order your HIP through HouseWeb, as we have teamed up with one of the country's leading HIP providers. The cost is just £299 +VAT or if you prefer there is a "payment on completion" option for a small extra charge. If you advertise your property with us, as a HouseWeb customer you will receive a HIPs discount of £20 +VAT (£23.50). To order a HIPs at just £279 +VAT, click the "Submit Your Property" button below:

or [Order HIPs Seperately] - £299+VAT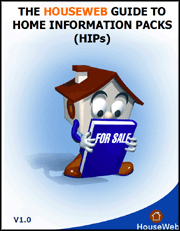 DOWNLOAD HOUSEWEB'S FREE GUIDE TO HIPs
What is a HIP?
The government have introduced HIPs in an attempt to improve the process of buying and selling property in England and Wales and to improve the environment through energy awareness. A Home Information Pack includes essential information about a property which was previously not made available to the buyer until later in the process. It also includes an Energy Performance Certificate, rating each property, and highlighting ways to save energy. By making this information available upfront, the intention is to speed up the process of buying and selling property. A Home Condition Report (similar to a survey) can be included as an optional extra, as can guarantees and warranties.
What does a HIP include?
The Pack must contain at least the following:
Home Information Pack Index
An Energy Performance Certificate, rating the property on a scale of A to G and suggesting ways to improve its energy consumption. This must be produced by a member of the Government approved certification scheme and includes an Energy graph which must be available with the property's details.

Sale Statement

Standard Searches
Evidence of title
Additional information for Leasehold and Commonhold sales where appropriate.
Additional documents which can be included are:
Home Condition Report, similar to a survey.

Legal Summary
Guarantees and warranties

Other searches.

Home use/contents forms.

Are there any properties that don't need a HIP?
From August 1st all properties in England & Wales with four or more bedrooms will need a HIP. Packs for smaller properties will be phased in over time, so eventually HIPs will be compulsory for all properties.
There are also a number of cases where a HIP is not required at all.
Properties where there is no marketing (e.g. sale to member of the family)
Non-residential properties
Seasonal and holiday accommodation
Mixed sales (e.g. shop with flat)
Right to buy sales
Sales of portfolios of properties
Properties not being sold with completely vacant possession
Unsafe properties and properties to be demolished.
How can HouseWeb help me with HIPs?
HouseWeb is working closely with one of the country's leading HIP providers to offer various options at competitive prices. There is the option to defer payment for nine months or pay on completion, whichever is sooner. Once your HIP is ordered your property can go live on the market (i.e. you will not have to wait for the HIP to be complete). It will typically take 7 working days to prepare, dependent on how quickly the Energy Assessor can gain access to your property. The HIP will be made available to you as a PDF file once it is complete so you can then send

it to serious prospective buyers, or print off a hard copy.

You will find more information on the Government website:
http://www.homeinformationpacks.gov.uk