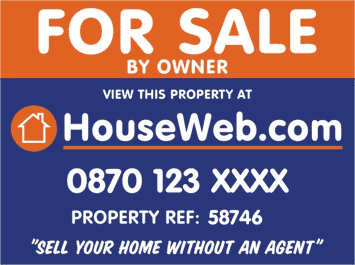 DID A BUYER WALK PAST YOUR HOUSE TODAY?

MAXIMISE THE MARKETING OF YOUR PROPERTY
Combining the HouseWeb "For Sale" sign with your Internet marketing can help increase the chances of selling your property by up to 60%. Research has shown that properties with For Sale signs can sell up to twice as quickly.
This professionally-designed, colour sign offers the following benefits:
Attracts local and non-internet house-hunters.
Unique 0870 phone number - so you don't have to display your personal telephone number. You can opt to have all enquiries redirected to your landline number or go to 0870 voicemail (which are e-mailed to you as a sound file). You can also use this number on your web advert.
Personalised with your property number to ensure people find your property fast on HouseWeb.
Double-sided for maximum impact.
Waterproof, high-quality material - similar to an estate agent's sign.
Comes complete with assembly instructions and fittings (excluding the post).
Delivered to your door, by first class post.
Meets the regulation "For Sale" board size (815mm * 610mm).
Price includes VAT, postage and packaging.
Please note: Post not provided. To mount the board, please purchase a 2"x2" post from your local DIY or hardware store.

HOW ELSE CAN I ORDER THE SIGN?
You can order over the phone by calling HouseWeb Customer Services on (0845) 123 5181 during office hours. Alternatively, you can send a cheque or fax your payment to us. Please click here for details.

I HAVE ANOTHER QUESTION
Please e-mail HouseWeb Customer Services on info@houseweb.co.uk or call (0845) 123 5181.